Frequently Asked Questions
What is stamped concrete?
Stamped Concrete is a process of adding color and a textured pattern to a plain concrete slab at the time of pouring. When finished the concrete has the look and feel of brick, slate or stone, with the contour and coloring to match these surfaces.
What are the advantages of stamped concrete?
With Stamped Concrete the possibilities are endless - a big variety of stamp patterns are available and each may be used with a variety of colors to achieve your desired result. You will also save significantly over cobblestone, slate, pavers, stone, tile, or brick, especially labor cost which is much higher with those other materials.
What maintenance is required with Stamped Concrete?
Basically Stamped Concrete is maintenance free. You may, if you chose, apply a fresh sealer coat every other year, to bring back the original sheen. The surface is extremely easy to clean - there are no grout joints to retain dirt and mold.
What is the installation process?
The pictures below show the stamped concrete process, from start to finish.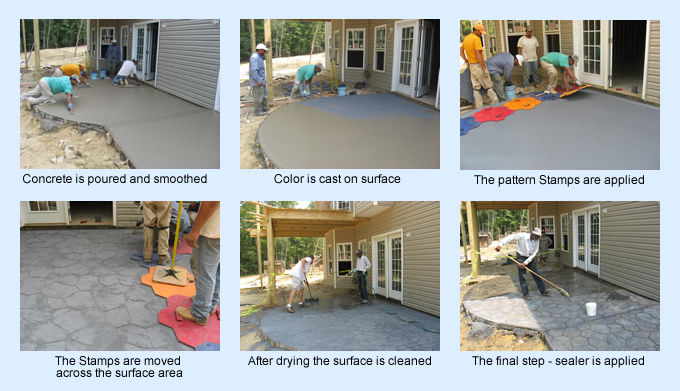 What are the restrictions for where Stamped Concrete may be used?
Essentially Stamped Concrete can be used anywhere, including places you would not be able to use the materials it mimics. For example, you would never want to put tile on a driveway, but you could easily use a tile textured stamp to create the same look without a problem.
Do you do other kinds of concrete work?
We provide the full range of concrete services, including:&nbspl New Look concrete stain; Driveways; Walkways; Patios; Pool Decks; Garages; Floor slabs and Mono slabs.
Can old concrete be replaced?
Old concrete that was improperly poured or maintained, and concrete that has cracked and shifted over time, can be replaced. To learn more about this process, see our concrete repair page.
FURTHER QUESTIONS?
Please feel free to call us, at 336-382-1031, or use our convenient online contact form to ask us any other questions you may have about Stamped Concrete or any of our services.